This ancient and wise system of medicine originated in the East over 2,000 years ago.
It was used in China as a preventative measure and has been shown to help the body heal itself by stimulating the immune system. The WHO, through clinical trials, has approved the use of acupuncture for a wide range of health issues in Western society.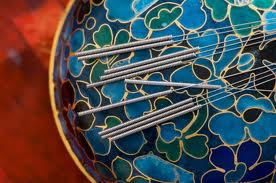 With her background as a medical doctor Dr. Larkin's 20 years experience in using acupuncture has shown her that it is very effective in treating many acute and chronic diseases. It is particularly effective in dealing with 'stress' related diseases that plague our modern world: irritable bowel syndrome, insomnia, anxiety, migraine, etc as it addresses both the emotional as well as the physical components of a disorder.
As acupuncture has been shown to reduce inflammation and relieve pain it is helpful in treating many acute and chronic painful conditions: sciatica, back pain, arthritis,  frozen shoulder, tennis elbow, headaches, shingles, etc.  Research recently published in the Archives of  Internal Medicine from a study in Germany showed that acupuncture can provide significantly more relief for back pain than conventional therapies. They showed that Needle insertion is  74% more likely to produce a sustained reduction in pain compared to physiotherapy,medication or advice on exercise.
Catherine worked in the Well Woman Centre in Leeson street for many years. Chinese Medicine is very beneficial for many conditions associated with the menstrual cycle, e.g.  painful, irregular or heavy menstrual bleeding, PMT, endometriosis, polycystic ovaries and menopausal problems. Acupuncture has been proven to statistically increase the success of IVF treatment in several studies. IVF & Acupuncture
Respiratory conditions that respond to acupuncture include Sinusitis. Asthma. Chronic bronchitis, Hay fever. Catarrh. Studies have proven that Acupuncture stimulates the Immune System to help fight infection.
Traditional Chinese Medicine understands and explains how our diet and emotions, positive and negative, affect our body organs. Conversely it also explains how chronic health maladies in turn adversely affect our psychological well being.
While undergoing acupuncture treatments patients come to better understand the origin of their dis-ease. They are enabled to take more positive responsibility for their physical and emotional health as well as their diet and lifestyle in order to remain in good health.
The initial Acupuncture appointment takes approx 1 hour when a detailed history of the person's medical background and of the current problem is discussed. A treatment plan involving acupuncture, dietary and lifestyle modifications plus herbal treatment, if deemed necessary, will be commenced. The first visit costs €55.00. Follow-up sessions lasting approx 45 mins  are €50.00.