The Chinese talk about Qi, energy meridians, Blood, pulse and tongue diagnosis, blockage of energy, Yin and Yang.
The Western medical model seeks to rationalise the benefits of Acupuncture by referring to the placebo effect and endorphin release.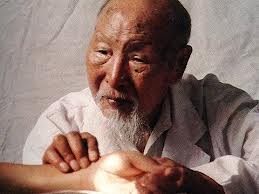 As a medical doctor Catherine found that her knowledge of human physiology and pathology was initially more of a hindrance than a help to her in studying Chinese Medicine. The functions of the major organs, i.e. the liver, stomach, gallbladder, spleen, kidneys and heart, in the Chinese tradition have less rather than more in common with their Western counterparts.
The Chinese 'liver' is concerned with the smooth flow of energy and blood.
The 'spleen' is in charge of the transportation and transformation and fluids.
The 'kidney' is associated with the emotion of fear; the heart with 'joy'.
When she was finally able to stop looking for analogies between the disparate teachings she began to appreciate the holistic nature of Chinese Medicine.
Over the many years that she has used acupuncture and Chinese medicine to treat people, she has come to the conclusion that acupuncture works by aiding the body to heal itself and to bring it back into homeostasis.
Acupuncture studies carried out in Australia and published in 'The Vital Meridian' (1991) showed that acupuncture does indeed influence many physiological patterns. Researchers argue that repeated treatments mobilise a permanent change in some aspects of physiological behaviour. It thus appears feasible that acupuncture could be perceived as a form of physiological 'retraining'.
In China many eons ago a doctor was paid when he gave his patients regular acupuncture and kept them in good health. If, and when, they became ill he had failed in his job and was then obliged to treat them for free.
Currently in China doctors are trained in both Western and Chinese medical disciplines. They understand both approaches to the diagnosis and treatment of disease and can use the best of both modalities to help patients.
It is Dr. Catherine Larkin's vision that this model will eventually be available and used in the Western World.